30×500 Academy
has two parts
Part 1: Read Their Minds
Very first thing: Find your audience and read their minds… stat!
No customer = no product. Customers come first. So in Part 1 of 30×500 Academy, you'll start building your customer base right away.
You'll jump right into Safari. Fact: You're already surrounded by solid gold market research, and now you'll finally learn to see it. You'll become a quick study at spotting pain points… pain points you can start addressing within the very first hour.
At the end of Read Their Minds, here's what you'll be able to:
create an infinite, endless list of marketing topics a.k.a. "Ebombs" in 30×500 parlance
turn your readers into your email list, aka the PROVEN best sales channel ever
write in a way that makes your audience go "OMG, it's like you read my mind!"
build connection, reputation, and relationships with your audience (which also provides a long-term source of traffic straight to you)
…and you'll know how to do it, because you'll have done it.
You'll also learn:
How all that work will lead you straight to a product your audience will love to buy.
How to create marketing content that'll get you new readers today… that'll turn into parts of your product tomorrow.
How to generate nearly infinite potential products using 1. your Safari research (above!), 2. our specific, step-by-step system.
Killer. You'll be stacking up the little wins left and right.
Now it's time to go for the bigger wins, and ship your product to paying customers.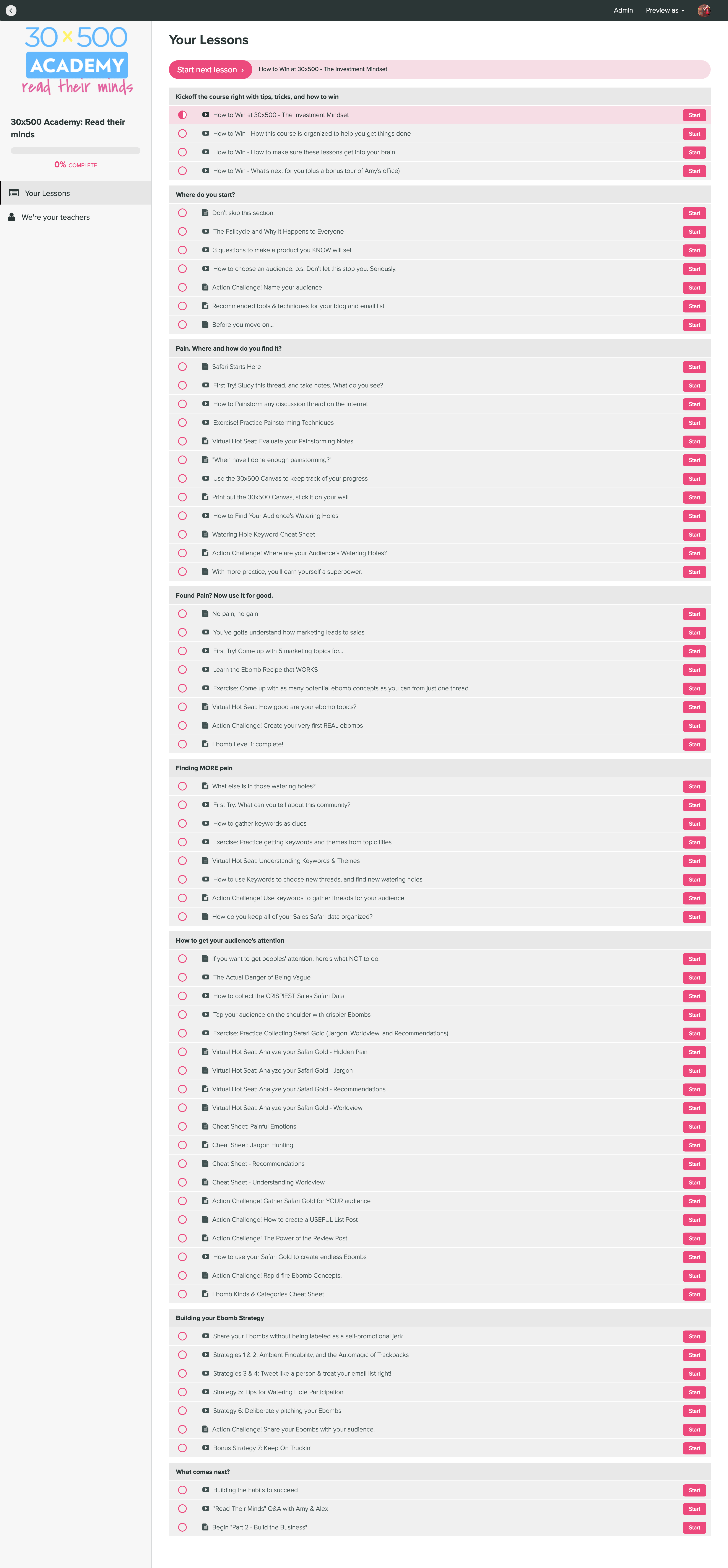 ---
"Total revenue to date: $36,206.90. I literally hadn't sold a single product in my entire life … only 4 months ago. Have I told you THANK YOU for 30×500 lately?"

Part 2: Build the Business
Your audience is growing. They're loving your Ebombs. They're signing up for your mailing list. Awesome! Go you!
Now it's time for Part 2: Build the Business.
You'll learn to analyze more complex, nuanced pain in your audience...spotting the less-obvious, even the downright hidden. You'll learn about the words, worldviews and beliefs that repel… or attract. You'll master Safari ne plus ultra.
And the reason for this is… well, you're gearing up to design a product and ask for money. The stakes are higher. The level of detail needs to be higher, too.
At the end of Build the Business, you'll be able to do:
design and create the 10+ most successful types of Ebombs
write a pitch (a sales pitch) that'll have your customers reaching for their wallets
plan and scope your very first tiny product
plan and create your very first launch sequence
And every element—what type of product? what will it look and feel like? what type of approach? what format will the launch content be? —will be tuned to your audience.
"Why not put all this stuff in Step 1?" you might be asking.
Simple: You don't need this stuff to start racking up little wins, readers, and subscribers. Until you've got a growing readership, list, and big ol' pile of Safari data, it's a distraction from doing. And we're all about getting you doing and winning ASAP.
And once you experience how the "boring" Sales Safari gives you mind-reading superpowers, you'll never again revert to "great idea" spray & pray. You'll never again waste time building something nobody wants.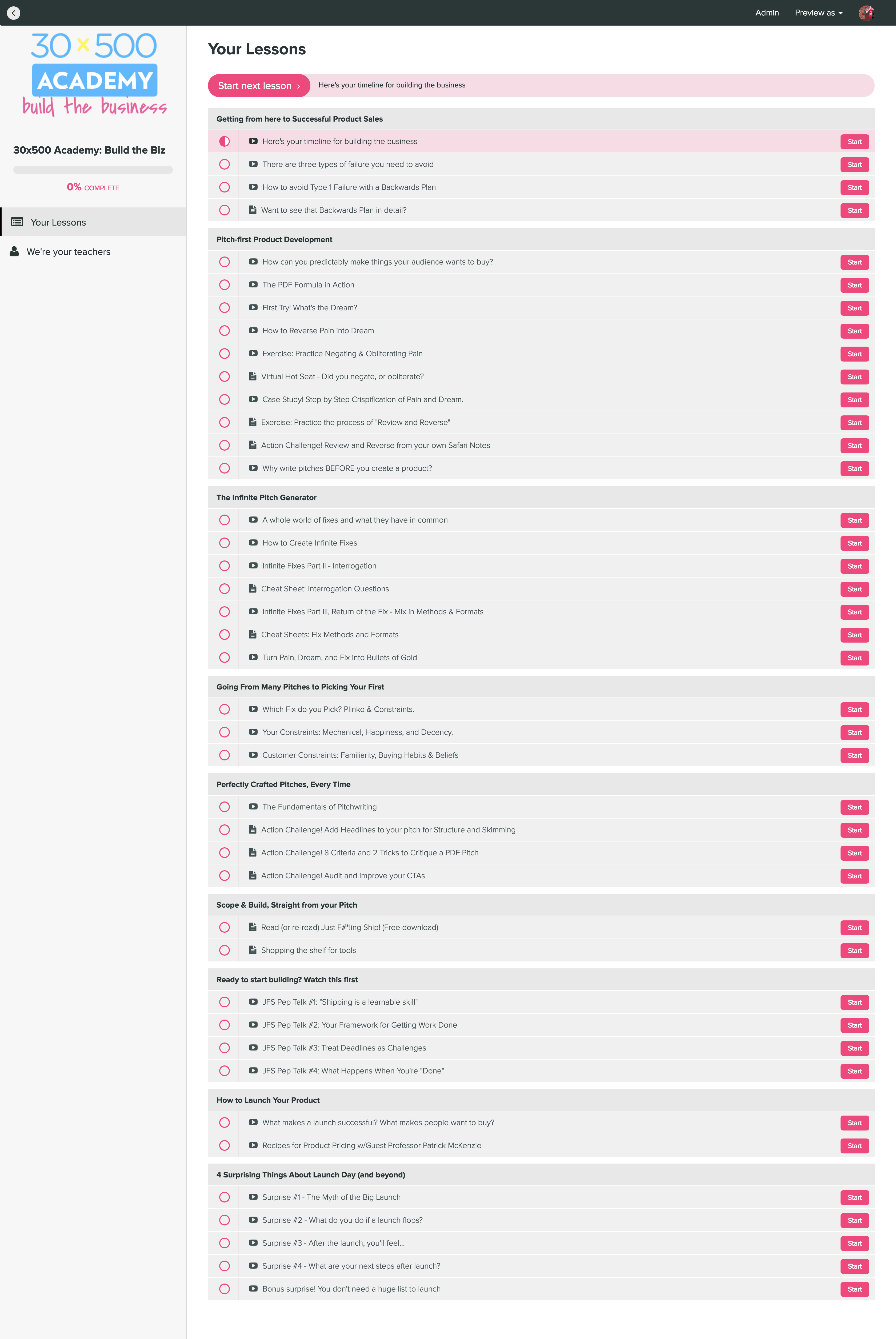 ---
In life, and business, there are no guarantees.
But here's our promise to you:
We care more about our students' success than taking their money. Easy to say, but for 5 years, we've actively turned away students who had to borrow money to take the course, students with unreasonable expectations for their financial success, students not equipped to make a product, and students who don't seem willing to do the slow work to build a business incrementally.
We're honest to the end about the level of effort, skills, and other ingredients required. Here's a list of the top reasons you would NOT want to do 30×500, including personality types and audience types that are not recommended for this course and approach.
We expect you to be honest about your best effort to apply the process that you learn. This is NOT a get rich quick program, or a startup lottery. Following the 30×500 process takes time, and effort… but it does work. Your wins might seem small at first, but if you keep going, they'll become bigger wins before you know it. You don't even need to get things perfect to get great results. In most cases, doing things 20% right will get you better results than doing nothing.
If you take the small, unsexy steps: if you follow the steps to do Safari research, take notes, and review them; if you ship Ebombs that help people in your audience and add them to your list; if you practice each element of the 30×500 process and still DO NOT feel like you are making progress 90 days after you begin doing the work, we will try to work with you to identify what's missing. And if that doesn't work, we'll give you a full refund.
---
"If you have a pile of projects that have gone nowhere and made zero dollars, and are finally ready to actually create a business instead of a project, take 30×500 ASAP then just do what Amy and Alex tell you to do."

---
Frequently Asked Questions
Is 30×500 right for me?
Most of the time, if you're asking this question you're really asking one of the following:
Will it work for my existing idea/product?
Will it work for my audience?
Will it work for me, personally?
We've answered all three of these questions in detail for you here.
If you've read that page and still are unsure, please email us help@30x500.com before signing up!
What happens after I buy?
When you log in for the first time you'll see a few lessons that we've created to welcome you to the 30×500 Academy: some recommended reading to help you get ready and soon, some mini-assignments to help you hit the ground running.
Will you (Amy & Alex) be available if I get stuck?
Our priority is for you to succeed, so when you have specific questions about understanding and applying what you're learning, we'll absolutely do our best to help!
But to keep expectations clear, enrolling in 30×500 Academy doesn't turn Alex & Amy into your private 24/7 business or life coaches. If you email us for help, we ask that you're respectful of our time and more importantly, that you're actually doing the work and not just asking questions to avoid the work. :)
For students who are taking ACTION (even little bits of action, like shipping Ebombs), additional coaching is available through alumni only resources such as periodic 30×500 Masterclasses and our community, The 30×500 Forge.
Can 30×500 help me validate my existing idea?
Nope. That's backwards. The 30×500 process won't help you 'validate' your idea—that's a technique for the land of wishin' and hopin' and we don't teach that here.
Okay… can I learn how to make more sales with my existing product?
If you already have a product That's ALREADY MAKING SALES, the 30×500 techniques can help you make MORE sales and grow your product empire further, by understanding your market even better, and marketing and selling more effectively. Read more here to see if 30×500 is right for you.
Is there a "community" component to 30×500 Academy?
You'll get access to a private chat room for you to meet & connect with fellow Bootstrappers & Brick Stackers. But be careful not to let the community become a distraction from the real work!
What's the story behind the name '30×500'?
30×500 is a formula, a simple bit of arithmetic.
Before we created 30×500 we noticed that a LOT of our very talented friends were stuck—miserable—at startup and corporate jobs they hated. They looked longingly into the world of having a product business of their own, but were faced with the chasm of how to replace their existing income.
If their income was something like—say, a healthy $180k/year salary—they could never imagine themselves building a business to replace that. Until we broke it down for them: you only need to deliver $30/month worth of value to 500 customers to gross $180k/year. That's 500 customers, on the ENTIRE INTERNET.
When you see those numbers, success as a bootstrapping solo entrepreneur starts to look so much more achievable. Hence, 30×500. Of course, both of those numbers are variables. Deliver $100/month to 150 customers, same outcome (with less support!). Introduce a second product, especially one that your existing happy customers are likely to buy, and the numbers start to… well, stack up.
That's why this little bit of math is at the heart of Stacking the Bricks to build your business.
I'm NOT a designer or a developer. Will 30×500 work for me?
Probably! You don't need to be a designer, developer, or writer to successfully use the concepts that we teach in 30×500. You do NOT need to have technical or programming skills. You SHOULD have the skills to create a product without outsourcing the product creation itself. Do you have those skills?
Hint: if you're currently paid to perform a skill, you can create a product.
If you're not sure, read this first.
And if you're still not sure if 30×500 is for you, email us at help@30x500.com and ask us!
What if I'm based outside of the United States? Will 30×500 still work if I live in a different country?
You won't find any US centric concepts in 30×500. All of the Sales Safari work you'll be doing you can do from anywhere, on audiences from anywhere. That's the beauty of using the internet.
We have success stories from all over the world, and 30×500 students are enrolled from everywhere you can imagine.
Some countries DO have specific needs for their software (especially once money starts changing hands), but we don't focus much on tools because they're such a TINY part of the process. Any tool we recommend, however, almost certainly has an international-friendly equivalent.
And since 30×500 Academy is something you can complete on your own time, you don't have to worry about time zones. Any "live" events we host for our students are also recorded for watching when it's easy for you.
If you're concerned about language issues—specific to the course or the exercises—or if you're still not sure if 30×500 is for you, email us at help@30x500.com and ask us!
How long will the course material be available?
Forever! Once you're enrolled, you'll have continued access to the 30×500 video lessons, PDF workbooks, and exercises.
How much time will I need to dedicate to this course?
Naturally, the more time you invest, the more and better results you'll get in less time. Duh :)
Some of our students have diligently tracked their time and reported approximately 40 hours of actual course material to "complete" - so roughly equivalent to a semester long college course.
But we've structured 30×500 so that your results build over time.
It's more important to set a pace that you can keep up so you achieve the results than to "rush" the 40–50 hours and do a poor job.
How soon will I be able to launch my first product?
Part of what you'll learn is to redefine what a "product" actually is. Within the first couple of hours of 30×500 lessons, you'll have learned enough to start shipping Ebombs, which are really just tiny, free products.
Your first PAID product will take more work, but the timeline is entirely dependent on your willingness to apply the steps (remember, 9 out of 10 failures in our class are the result of not doing ANY steps).
If you're motivated and focused on your audience, it's entirely possible for you to get results faster. But we're not here to tell you when you can or can't launch. Your results are entirely based on the work you put in: doing Sales Safari, shipping Ebombs, backwards planning, and actually launching.
I still have questions!
I'm sure we have answers for you—just drop us an email at help@30x500.com.
---
Ready to get started?